General Information of Japanese Food
Lunch Information
There are many good restaurants in the Hiroshima city. We will provide lunch tickets useful for those restaurants.
Most of menus are written in Japanese including "Kanji". You must install a translate camera application into your smart phone.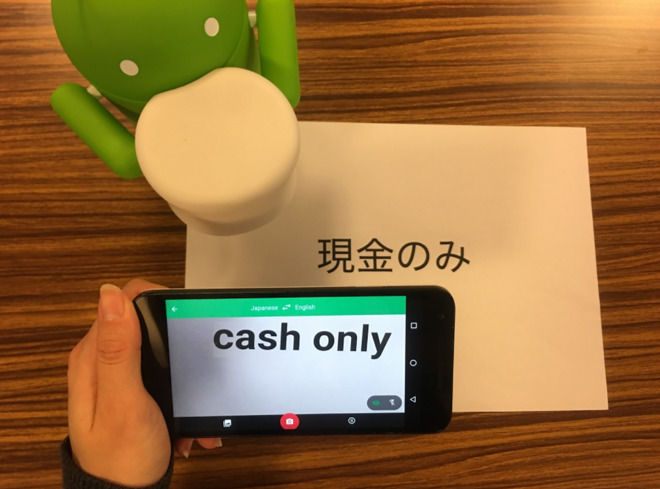 There are two types of usage of the lunch tickets:
Type A:
You can have lunch at some designated restaurants with the lunch tickets. The expense over JPY1,200 will be charged there.
Type B:
If you bring a lunch ticket with a receipt of ANY restaurants / cafes / stores in the Hiroshima city, the lunch ticket will be exchanged with JPY1,000 at the reception desk.
A lunch ticket won't be exchanged if there is no receipt with the same date on the ticket.
A lunch ticket can be exchanged only during the conference.
Restaurant "Serenade" (B2F at the venue, about 100 sheets)
Place:
B2F in the International Conference Center Hiroshima Google Map
Tel:
082-246-4100
Continue
Type B Restaurants & Cafes recommended by IFAAP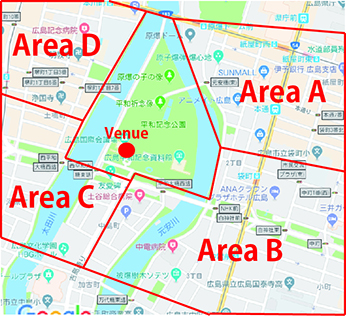 Kanak Indian Cuisine(Halal Restaurant)
Place:
〒730-0051 Hiroshima Prefecture, Hiroshima, Naka Ward, Otemachi, 2 Chome 10 Google Map
Tel:
082-236-7308
Turkish Restaurant KARSIYAKA(Halal Restaurant)
Place:
2 Chome-6-20 Otemachi, Naka Ward, Hiroshima, Hiroshima Prefecture 730-0051 Google Map
Tel:
082-236-7308
Organic Cafe & Kitchen "Saeki"(Vegetarian Menu, Recommendation: Takakibi Hamburg Set. Takakibi means sorghum bicolor)
Place:
1 Chome-4-25 Kamiyacho, Naka-ku, Hiroshima-shi, Hiroshima-ken 730-0031 Google Map
Tel:
082-246-9339
Caff'e Ponte ITALIANO(At the gate of Hiroshima Peace Memorial Park, Lunch JPY1,280-)
Place:
〒730-0051 Hiroshima-ken, Hiroshima-shi, Naka-ku, Otemachi, 1 Chome 9-21 , Google Map
Tel:
082-247-7471
Art Cafe ELK(Vegetarian Menu,

Recommendation: Japanese Vegan plate JPY1,280 or Hiroshima Oyster Burger JPY980)

Place:
〒730-0051 Hiroshima-ken, Hiroshima-shi, Naka-ku, Otemachi, 1 Chome 7-23 Google Map
Tel:
082-247-4443
Italian-French Restaurant "CIEL" (Vegetarian Menu,

One plate lunch JPY980, Pasta lunch JPY980, Vegetable lunch JPY980, Garlic meat lunch JPY980, + drink JPY150

)
Place:
2 Chome-1-12 Otemachi, Naka-ku, Hiroshima-shi, Hiroshima-ken 730-0051 Google Map
Tel:
082-247-2525
Subway (If you like vegetables, order "yasai oome" which means maximize the amount of vegetables in a sandwich. Japanese Subway(YouTube))
Place:
〒730-0051 Hiroshima-ken, Hiroshima-shi, Naka-ku, Otemachi, 1 Chome 1-4-5 Google Map
Tel:
082-249-2922
Japanese Restaurant "Ootoya" (Most of dishes are less than JPY1,000.

YouTube(Ootoya at Tokyo)

)
Place:
〒730-0035 Hiroshima-ken, Hiroshima-shi, Naka-ku, Hondori, 6-5 Google Map
Tel:
082-504-3687
Tonkatsu Restaurant "Matsunoya" (Try Pork Loin Cutlet Bowl!! JPY530

YouTube

)
Place:
1-4 Hondori, Naka-ku, Hiroshima-shi, Hiroshima-ken 730-0035 Google Map
Tel:
082-545-1822
Italian Restaurant "Saizeriya" (Cheapest Family Restaurant in Japan,

YouTube

)
Place:
2 Chome-3-26 Kamiyacho, Naka-ku, Hiroshima-shi, Hiroshima-ken 730-0031 Google Map
Tel:
082-545-6730
Curry Restaurant "CoCo Ichiban" (Prices are less than JPY1,000.

YouTube

)
Place:
2 Chome-7-2 Otemachi, Naka-ku, Hiroshima-shi, Hiroshima-ken 730-0051 Google Map
Tel:
082-543-5535
Family Restaurant "Gusto" (Try Omelet Rice!! JPY700

YouTube

)
Place:
8-23 Hondori, Naka-ku, Hiroshima-shi, Hiroshima-ken 730-0035 Google Map
Tel:
082-543-5709
Miyoshi Shokudo (

Nostalgic Japanese restaurant for Japanese attendees, Try Katsu-don(Pork Cutlet Bow)!! less than JPY1,000)

Place:
〒730-0032 Hiroshima-ken, Hiroshima-shi, Naka-ku, Tatemachi, 1-12 Google Map
Tel:
082-247-9990
Thai Restaurant Manao (

Recommendation is Men-teishoku (Noodle set) including rice, salad and ice coffee JPY900)

Place:
〒730-0032 Hiroshima-ken, Hiroshima-shi, Naka-ku, Tetemachi 6-11 Google Map
Tel:
082-240-0229
Bikkuri Donkey (Hamburg Stake with reasonable price, 1,000JPN)
Place:
〒730-0035 Hiroshima-ken, Hiroshima-shi, Naka-ku, Hondori, 3-10, B1F , Google Map
Tel:
082-544-0211
Kichiyama Buffet(Buffet style lunch, JPY1,080)
Place:
〒730-0051 Hiroshima-ken, Hiroshima-shi, Naka-ku, Otemachi, 1 Chome 5-3 Google Map
Tel:
082-504-8250
Seafood Restaurant Antonio(5 kinds of Hiroshima pasta set JPY860 + dessert JPY100)
Place:
1 Chome-5-18 ?temachi, Naka-ku, Hiroshima-shi, Hiroshima-ken 730-0051 Google Map
Tel:
082-546-0777
MacDonald's (Japanese MacDonald's(YouTube))
Place:
〒730-0035 Hiroshima-ken, Hiroshima-shi, Naka-ku, Hond0ri, 6-8 Google Map
Tel:
082-249-9621
Lotteria, Hamburger Shop (CRAZY 10 PATTY BURGER in Japan(YouTube))
Place:
4-13 Hondori, Naka-ku, Hiroshima-shi, Hiroshima-ken 730-0035 Google Map
Tel:
082-249-0478
Japanese Soba Noodle "Kaori-ya" (Soba Noodle Ranking No. 3 in the Hiroshima City)
Place:
2 Chome-7 Otemachi, Naka-ku, Hiroshima-shi, Hiroshima-ken 730-0051 Google Map
Tel:
082-247-2490
Ramen Ichiran (

Ramen Ranking No. 5 in the Hiroshima city. Recommended menu is Ramen with Tonkotu soup.

)
Place:
2 Chome-3-22 Kamiyacho, Naka Ward, Hiroshima, Hiroshima Prefecture , Google Map
Tel:
082-249-5411
Ramen Restaurant Ippudo (World Famous Ramen Restaurant Group (YouTube))
Place:
〒730-0036 Hiroshima-ken, Hiroshima-shi, Naka-ku, Fukuromachi, 2-2 Google Map
Tel:
082-504-3536
Ramen Restaurant "Eight Men"(Ramen without soup(Similar noodle(YouTube)))
Place:
1 Chome-5-22 Kamiyach?, Naka-ku, Hiroshima-shi, Hiroshima-ken 730-0031 Google Map
Tel:
082-205-6227
Indian Curry "Gariber" (Vegetarian menu)
Place:
4-1 Hondori, Naka-ku, Hiroshima-shi, Hiroshima-ken 730-0035 , Google Map
Tel:
082-243-4914
Yakiniku Restaurant "Tomiya" (

Yakiniku means grilled meat.

)
Place:
2-6 Fukuromachi, Naka-ku, Hiroshima-shi, Hiroshima-ken 730-0036 , Google Map
Tel:
050-5828-8239
Tempura "Takara" (

Tempura Ranking No. 2 in the Hiroshima city, Only 6 sheets in a small shop(difficult to eat at lunch time), You should choose Kaisen-tendon(Seafood tempura on rice, JPY1,200) or Ebi-tendon(Shrimp tempura on rice, JPY1,200). Both of them are excellent quality.

)
Place:
5-13 Hondori, Naka-ku, Hiroshima-shi, Hiroshima-ken 730-0035 , Google Map
Tel:
082-244-8848
Tuki-akari, Moon Light (Recommended menu is Anago-meshi, domestic foods at Hiroshima. Anago means congridae, and meshi means rice. Price is about JPN1,000.)
Place:
1 Chome-8-9 Otemachi, Naka-ku, Hiroshima-shi, Hiroshima-ken 730-0051 , Google Map
Tel:
082-545-7777
Okonomimura (Cluster of 25 Okonomiyaki restaurants. English menu.)
Place:
〒730-0034 Hiroshima-ken, Hiroshima-shi, Naka-ku, Shintenchi, 5-13 , Google Map
Tel:
082-241-2210
KeMBY'S CAFE (Hamburger Ranking No. 1 in the Hiroshima City)
Place:
2 Chome-9-13 Otemachi, Naka-ku, Hiroshima-shi, Hiroshima-ken 730-0051 Google Map
Tel:
082-249-6201
Mos Burger (Ranking No. 1 Burger Shop Group in Japan (YouTube))
Place:
〒730-0037 Hiroshima-ken, Hiroshima-shi, Naka-ku, Nakamachi, 6-30 Google Map
Tel:
082-545-2530
Comon (German Beer & Foods, Vegetarian menu)
Place:
3 Chome-3-7 Ootemachi, Naka-ku, Hiroshima 730-0051 , Google Map
Tel:
082-258-4649
Indian Curry "Nandi"(

One of the best taste Indian curry in the Hiroshima city

)
Place:
6-20 Komachi, Naka-ku, Hiroshima-shi, Hiroshima-ken 730-0041 , Google Map
Tel:
082-249-4511
Ramen Shop "Masara"(Recommendation is Dan Dan noodle without soup)
Place:
〒730-0051 Hiroshima-ken, Hiroshima-shi, Naka-ku, Otemachi, 2 Chome 6-8, Google Map
Tel:
082-205-6178
Italian-Spanish Dinning Bar "TINTO" (Vegetarian Menu,

One dish + salad + drink(bar), soup(bar) JPY790, dish: Today's meat, Today's fish, pizza, pasta, lasagna, paella, Mexican tacos or sandwich

)
Place:
5-4 Nakamachi, Naka Ward, Hiroshima, Hiroshima Prefecture Google Map
Tel:
082-546-0007
Sandwich Dinning "Cantina23" (Vegetarian Menu,

Sandwich with potato JPY550-1,050 + soft drink JPY300

)
Place:
〒730-0029 Hiroshima, Naka-ku, Mikawacho, 10, 10-23 Google Map
Tel:
082-576-2217
Udon Noodle Restaurant "Sanuki-ya" (Try tenzaru-udon(cold udon with tempura) JPY820 + a large helping JPY150, Chinese girl tries Sanuki-ya (YouTube))
Place:
3-1 Komachi, Naka-ku, Hiroshima-shi, Hiroshima-ken 730-0041 Google Map
Tel:
082-246-9138
Ramen Shop "Youki 陽気"(Ramen Ranking No. 1 in the Hiroshima city, JPN600!!)
Place:
3 Chome-1-6 Otemachi, Naka-ku, Hiroshima-shi, Hiroshima-ken 730-0051 , Google Map
Tel:
082-249-0699
Dan Dan Ramen Restaurant "King-ken" (Ramen withou Soup Ranking No. 2 in the Hiroshima City, less than JPY1,000)
Place:
3 Chome-3 Otemachi, Naka-ku, Hiroshima-shi, Hiroshima-ken 730-0051 Google Map
Tel:
082-249-3646
WILD MAN BAGEL (If you like a light lunch, try bagels and drink.)
Place:
9-29 Nakajimach?, Naka-ku, Hiroshima-shi, Hiroshima-ken 730-0811 Google Map
Tel:
082-567-5469
Japanese Restaurant "Chari"(Japanese lunch less than JPY1,000)
Place:
2-5 Nakajimacho, Naka-ku, Hiroshima-shi, Hiroshima-ken 730-0811 Google Map
Tel:
082-246-8672
Japanese Curry Restaurant "Masara"(less than JPY1,000)
Place:
9-28 Nakajimacho, Naka-ku, Hiroshima-shi, Hiroshima-ken 730-0811 Google Map
Tel:
090-9465-6352
Okonomiyaki "Micchan"(Branch of a famous okonomiyaki restaurant)
Place:
〒730-0811, 2-4 Nakajimacho, Naka-ku, Hiroshima-shi, Hiroshima-ken 730-0811 Google Map
Tel:
082-241-4980
Japanese Restaurant "Kakotei"(Nostalgic Japanese Restaurant, A big miso-soup bowl)
Place:
1-21 Kakomachi, Naka-ku, Hiroshima-shi, Hiroshima-ken 730-0812 Google Map
Tel:
PARCO della PACE (Pizza Restaurant, JPY1,000-2,000)
Place:
1-5 Dohashicho, Naka-ku, Hiroshima-shi, Hiroshima-ken 730-0854 Google Map
Tel:
082-275-5359
Bakery Roti (Try Melon Pan!!)
Place:
1 Chome-7-2 Sakaimachi, Naka-ku, Hiroshima-shi, Hiroshima-ken 730-0853 Google Map
Tel:
082-942-5005
Sheba Cafe (Vegetarian Menu, One of the closest restaurant from the venue.

Recommendation: One plate lunch with drink JPY1,400 (only 10 plates per day), Cheese sandwich with salad and drink JPY1,000.

)
Place:
〒730-0853 Hiroshima-ken, Hiroshima-shi, Naka-ku, Sakaimachi, 1 Chome 1-3 Google Map
Tel:
082-293-9948
Spanish-Italian Restaurant "LA FONDA" (Vegetarian Menu,

One coin pasta JPY500, + a large helping JPY100 + baguette JPY100, + salad & drink JPY390, Chef pasta course JPY1,500

)
Place:
〒730-0805 Hiroshima-ken, Hiroshima-shi, Naka-ku, Tokaichimachi, 1 Chome 4, Google Map
Tel:
050-5571-6918
Japanese Soba Noodle Shop "Tatsukichi" (Try cold soba with tempura!! JPY=1,000-1,500)
Place:
7-19 Nekoyacho, Naka-ku, Hiroshima-shi, Hiroshima-ken 730-0852 Google Map
Tel:
082-292-5658
Cinnamon Shokudo (Try omelet rice!! less than JPN1,000)
Place:
3-4 Dohashich?, Naka-ku, Hiroshima-shi, Hiroshima-ken 730-0854 Google Map
Tel:
082-942-3424
Reaction to Japanese Food (YouTube)