Partners' Program
Partner's program will be held at May 30 (Wed). Please participate in a walkable style.
The ticket fee is included in the registration fee of accompanied person. The number of tickets is limited. If you like to by additional tickets, please contact ifaap@hiroshima2018.com after the registration.
| | |
| --- | --- |
| | Schedule of Partners' Program on May 30 (Wed) |
| | |
8:45
Conference registration desk
9:00
Departure from International Conference Center Hiroshima
9:50
Experience and shopping at Kumano brushes exhibition center
(Kumanofude kobo)
12:00
Lunch at a restaurant in Hiroshima city
13:20
Sightseeing and walking at Hiroshima castle
14:40
Sightseeing and tea party at Shukkeien (Japanese garden)
16:40
Return to International Conference Center Hiroshima
Kumano brushes exhibition center (Kumanofude kobo)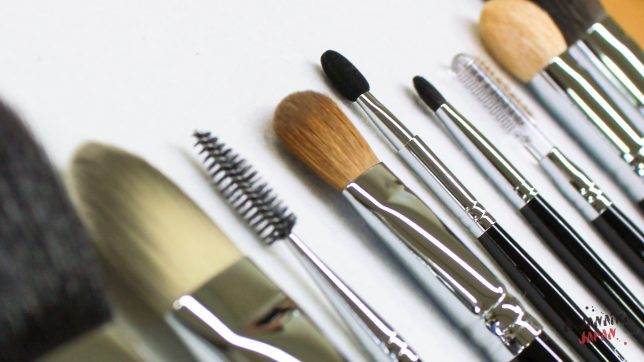 From pro beauty artists to the casual makeup wearer, many people put special thought and care into the quality and appearance of their makeup. However, a surprising number of people overlook the most important part of their makeup kit - brushes.
Kumano makeup brushes are produced by Japanese artisans with a long history of expertise in crafting handmade calligraphy tools, and are ideal for solving any makeup trouble and ensuring the best application possible.
Japan is home to high-quality artisanal calligraphy and makeup brushes known as Kumanofude (Kumano brushes), traditional handmade brushes from the Kumano region in Hiroshima prefecture. Historically, the penmanship tools were sold by local farmers who had traveled away looking for work after the rice harvest ended, and brought back with them calligraphy brushes and ink from larger towns to sell at home in Kumano.
Today, Kumano is home to a number of artisan manufacturers who craft around 80% of all domestically made brushes. The quality of craftsmanship by Japanese Kumanofude manufacturers is extremely high, and can require up to 10 years of training. Over those years of training, Kumanofude artisans to gain the knowledge required to be able to handle animal hairs for the bristles proficiently, as well as judge quality. Kumano Japanese makeup brushes require around 30 steps to create, and most of these steps are still done by hand. Great attention is paid especially to the most essential part of the brush - the tip - which are always handmade using traditional Kumano artisan techniques. Given the great care and precision used to make Kumano brushes, they are known to be more durable than other makeup brushes.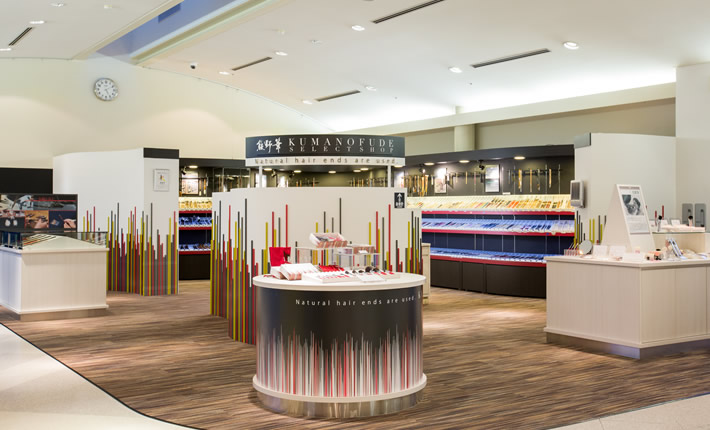 More than 1,500 kinds of Kumano brushes are sold in the shop at the Kumanofude kobo.
They are absolutely high quality but expensive...

Lunch at Hiroshima Yakumo (Japanese restaurant)
Hiroshima Castle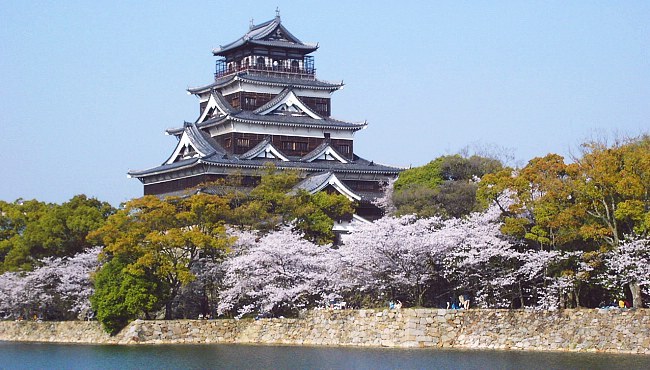 Hiroshima Castle, also called the Carp Castle, is a good example of a castle built on a plain in the center of a city as opposed to hilltop and mountaintop castles. Its main keep is five stories tall, and its grounds are surrounded by a moat. Also within the castle's precincts are a shrine, some ruins and a few reconstructed buildings of the Ninomaru (second circle of defense). Hiroshima developed as a castle town, whereby the castle was both the physical and economical center of the city. Built in 1589 by the powerful feudal lord Mori Terumoto, Hiroshima Castle was an important seat of power in Western Japan. While it was spared the demolishment that many other castles met during the Meiji Restoration, like the rest of the city, Hiroshima Castle was destroyed by the atomic bomb in 1945.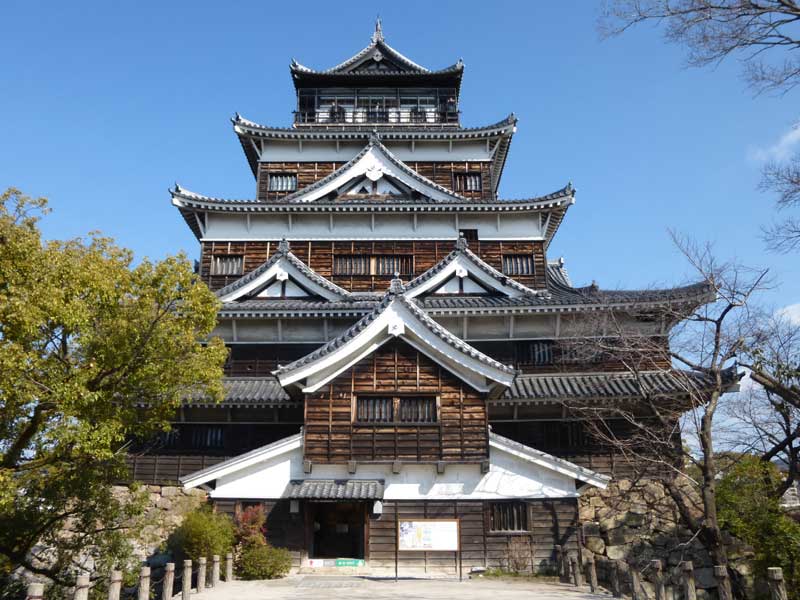 Shukkeien (A famous Japanese garden)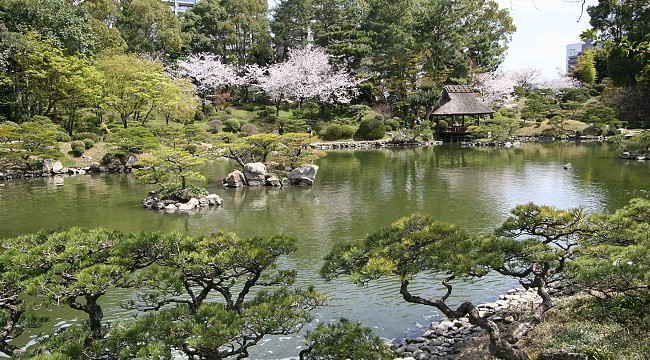 Shukkeien's (縮景園) name can be translated into English as "shrunken-scenery garden", which is also a good description of the garden itself. Valleys, mountains, and forests are represented in miniature in the garden's landscapes. Through careful cultivation of the land and vegetation, the garden mimics a variety of natural formations and scenic views.
Shukkeien has a long history dating back to 1620, just after the completion of Hiroshima Castle. The garden displays many features of the traditional aesthetics of Japanese gardens. Around the garden's main pond there are a number of tea houses which offer visitors ideal views of the surrounding scenery.
The entire garden is connected by a path which winds around the pond at the center of the garden. The path passes through all of Shukkeien's various miniaturized sceneries. Following this path around the garden is the best way to enjoy Shukkeien.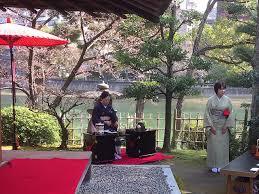 Tea party at Shukeien. You can enjoy the real Japanse green tea with a sweet.